HOW TO REACH AND HOW TO MOVE IN SICILY
The biggest regione in Italy is ready to welcome you with all its differences and specialities.
You will see amazing places, you will meet so many smiles, but sometimes you could turn your nose.
Remember straight away: travel as a sicilian, let the slowness get to you: your Sicily has already started.
Here you have the means of transport with which you can reach and travel around Sicily
AIRPORTS
HIGHWAYS
PORTS
RAILWAYS
AIRPORTS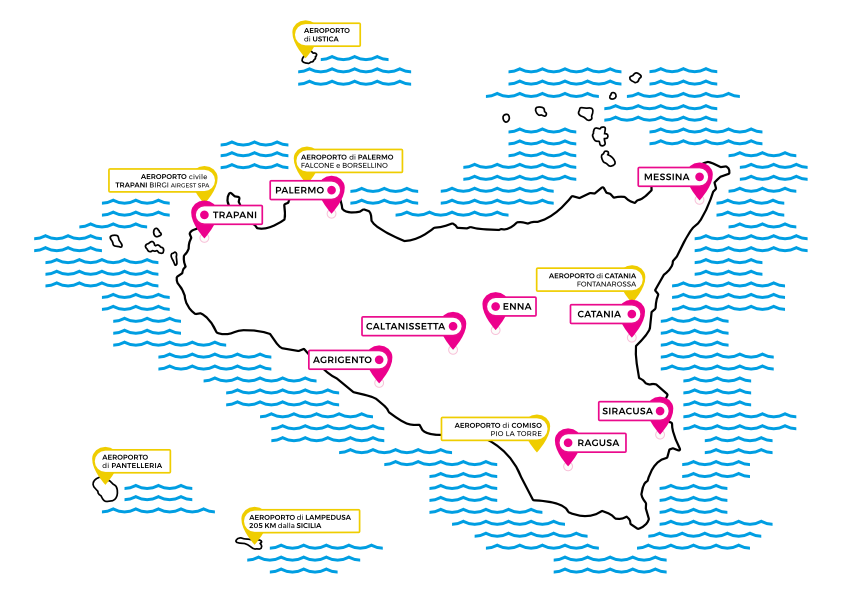 HIGHWAYS
PORTS
RAILWAYS
In Sicily we have six airports and they cover most of the territory.
Catania-Fontanarossa and Comiso-Pio La Torre serve the eastern part of Sicily; Palermo-Punta Raisi and Trapani- Birgi, the western.
In Lampedusa and Pantelleria, respectively in the south and in the west-south there are other two airports.
In all the sicilian airports are offered national and international flights, most numerous during the warm season. For the first stop of your trip the airports offer car rental and bus services, that connect them to neighbouring cities.
Welcome to Sicily, take a breath at the top of your lungs; that one is the air you will feel during your experience.
> Palermo airport
> Catania airport
> Trapani airport
> Comiso airport
In Sicily we have two railway lines.
One is run by Trenitalia and connects the province with towns and the other one is called Circumetnea, designed to connect Catania with the most important residential areas on the slopes of Etna.
If you speak with local people they will tell you that in Sicily it is easier to move by car because trains don't work so well.We are honest saying that unfortunately it is partially true; the quality of the service is not the best. Trains are often late, journeys are long but there are also some advantages.
If you choose to use this mean of transport, you should consider it as part of the journey; once arrived at the station, take a seat, wait for the train, joy its arrival and chose the sea view seat; you will even think that trains don't go slow because they work bad, but just to allow you to take a better look out of the window.
It is possible to find car rental agencies in all the most important cities and airports of the island.
In Sicily, 5 railways cover 610 km and connect some parts of the island (Catania, Mazara del Vallo, Messina, Palermo, Siracusa).
An adjective to describe our railways? Sicilian! Just two lanes, often interrupted for works, just as frequently as free. Do not despair and enjoy the beautiful landscapes that you have in front of your eyes: sea, valleys and mountains, the journey is also this.
Do not disdain secondary streets, there you can find the truest Sicily!
You can reach Sicily also by bus.
A long journey connects different italian cities with the island.
In Sicily, we have different companies that offer connecting routes between the various points of the island.
The services are well organized and they always leave on time. You may spend more time, but take a rest during the journey; window seat, music, an eye resting and the other one looking at the landscape…have a good trip, fellow travelers!
You can find us also here